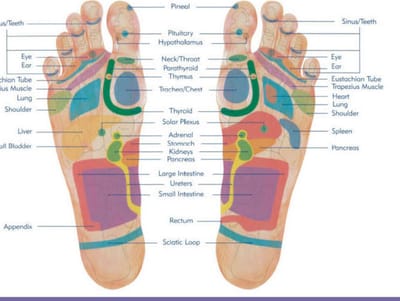 What is Reflexology?

Reflexology is a non-invasive complementary health therapy that can be effective in promoting deep relaxation and wellbeing; by reducing stress in people's lives can be key in optimising good health and building resilience. It is a touch therapy that is based on the theory that different points on the feet, lower leg, hands, face or ears correspond with different areas of the body and reflexologists work these points and areas.
However reflexology is viewed, there can be no doubt that what it does provide is a period of time for relaxation where the client has one to one attention and supportive touch in an empathetic listening environment. Reflexology can be used safely alongside standard healthcare to promote better health for their clients.

What happens when I go for my booked treatment?

A full medical history will be requested on your first treatment, and you will be asked to sign a consent form for treatment. This information will be kept confidential. The therapist may recommend a course of treatments if they feel it will be more beneficial.